published bimonthly by Edizioni Luigi Pozzi, Roma, Italy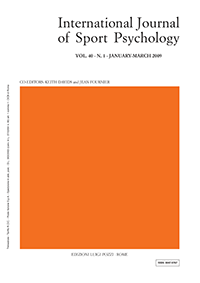 Co-editors: Ying Hwa Kee and Daniel Madigan
Managing editor: Alberto Cei

The International Journal of Sport Psychology publishes empirical and theoretical contributions in the human movement sciences from all over the world. Manuscripts related to psychology, sport pedagogy, exercise and sport performance are suited to the Journal's scope.
IJSP's aims are to disseminate results of rigorous and relevant studies, to expose positions and commentaries regarding the development of theory and confirmation or contradiction of previous findings. IJSP entertains various methodologies encompassing coherence among epistemology, research questions, tools, statistical or clinical analyses and discussion or potential applications. Qualitative and quantitative analyses as well as case studies are of interest when appropriately used. IJSP is comprised of the following sections related to human movement sciences:
Motor learning and control
Cognition
Health and exercise
Social psychology
Intervention / Clinical / counseling psychology
Obituary

by Athanasios Papaioannou and Robert Schinke

Nikos Chatzisarantis, Professor at Curtin University, Australia, was an internationally renowned researcher in the field of exercise and health psychology, Section Editor of the International Journal of Sport and Exercise Psychology. Unfortunately, Nikos passed away very recently, at a young age. Nikos grew up in Thessaloniki, Greece, graduated from Aristotle University of Thessaloniki, and he received a Masters and a PhD degree from Exeter and Loughborough universities, respectively. He held academic positions in the UK, Singapore and Australia. He conducted research across many countries in collaboration with many international colleagues and research students. Nikos was an accomplished scholar, always opening new lines of research, using the most advanced research methodologies. Nikos was a great thinker, very intelligent and very well read, with great passion for research and many visionary ideas. He published in many top journals in psychology in the fields of sport and exercise, health, education, and social/personality, and he was widely cited. He was particularly liked by his PhD students and his friends/colleagues.

His brilliance and friendship will remain forever in our memories.
Retraction Note Psychological factors as determinants of success in football and boxing: The effects of behaviour therapy.
Grossarth-Matiček, R., Eysenck, H.J., Rieder, H., and Rakić, L. (1990).
Retraction to: International Journal of Sport Psychology, 21, 237-255
The article was retracted due to an internal review of King's College London. The review committee found a lack of confidence.